Laurie Allen died on Thursday 15th December 2016 at 76 years of age in Sydney, Australia. Laurie was a devoted student and collector of Japanese Arms and Armour. He was known to many around the world by correspondence, but not on NMB because he was only, in his old age, just coming into the world of the computer and internet helped by one of his savvy grandsons. I did my best to keep him up to date with arrowhead happenings on NMB.
Laurie was a widely liked and respected collector in Australia for his great knowledge and friendly and generous manner. At a gathering he could be relied upon to come up with a pearl of wisdom unknown to others. He was a great general conversationalist with a great sense of humour as well and our meetings were liberally lubricated with beer, wine and good food. For all these and more reasons I did not want to see him slip into obscurity, so here I am to shine a light on our dear mate and share his accomplishments with you all. The photo below left shows his ready smile, the Laurie we all remember, and the other his obvious pride in being a grandparent.
The photo below shows Laurie late last year, enjoying himself at an art show with a beer in his hand.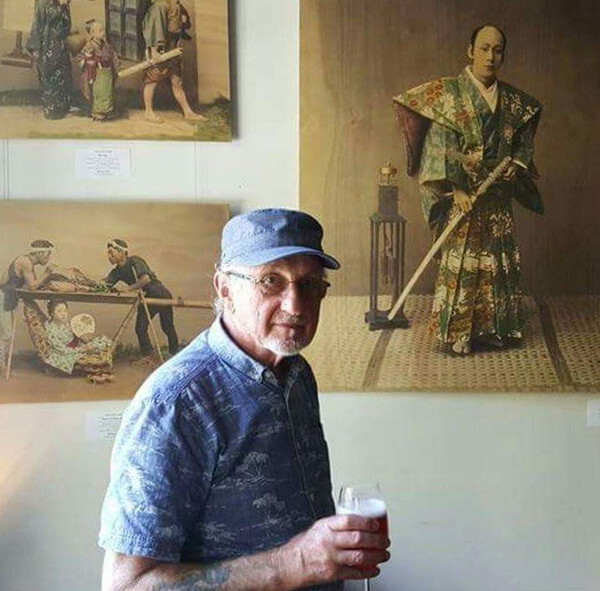 Laurie started collecting around 1964 and I got in contact with him shortly after, even though we lived some 650 miles apart. We have been firm friends for just over 50 years, visiting each other through the years and meeting with other collectors in our home bases. I'll let him tell his own story as it was in December 1972 - see attachments from the To-ken Society of Great Britain "Programme".
Over the years Laurie had many good pieces of tosogu and Nihontô, numbers of which were sold as business exigencies arose. I was fortunate to be able to acquire some of these and in turn pass them on as my own finances became stressed! The time came when nearly everything was sold and Laurie offered me a karimata yanone by the Shinshintô Satsuma sword smith MOTOYASU, MOTOHIRA's brother. I was enjoying this piece when Laurie asked if I would send it back to him as he had decided to collect yanone. That was the beginning of an odyssey that occupied Laurie for the next 30 years or more. At its peak his collection comprised around 300 yanone, while at his untimely death he had some 40 yanone. Sadly, as was always the case, better pieces had been sold to keep his business afloat.
Laurie had a voluminous correspondence with people all over the world. In the United States Dr Charles E. Grayson, George Vitt, and Paul Goodman, whose collection was sold at Bonhams' a couple of years or so ago. He had a correspondent Mr G van Brug in the Netherlands and in Japan a Professor with an interest in archery. He was a corresponding member of the Society of Archer-Antiquaries in Great Britain from Volume 1, No. 1 of its Journal. He was also well aware of some of the great early collections – Morton L. Smith, and the James Goodspeed collection, the latter once described as "...the finest private Japanese arrowhead collection in the Western world."
A great concern of Laurie's was the poor condition of many of the arrowheads he encountered. He approached a polisher in Japan who polished an arrowhead Laurie had in the form of a miniature magari yari, but declined to do any more. From his knowledge and experience Laurie understood there were no shortcuts when it came to polish. However, to "see" his arrowheads better he devised his own techniques through his understanding of sword polishing. He was rewarded with success when hada, hamon and yakiba could be clearly seen. A visiting professional polisher from Japan on seeing Laurie's work expressed surprise and complimented Laurie on his achievement. The picture below shows one of his successes among many.

Unable to buy traditional racks to display his arrowheads, Laurie designed one and had a retired cabinet maker turn them out. Thus in his last years Laurie could sit in his lounge room watching television and seeing three racks of arrowheads on his entertainment unit. Here are photos of those.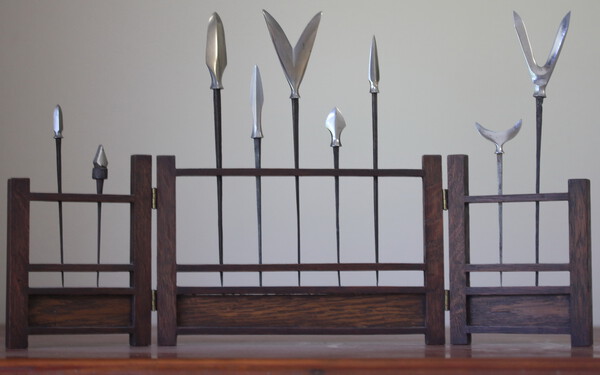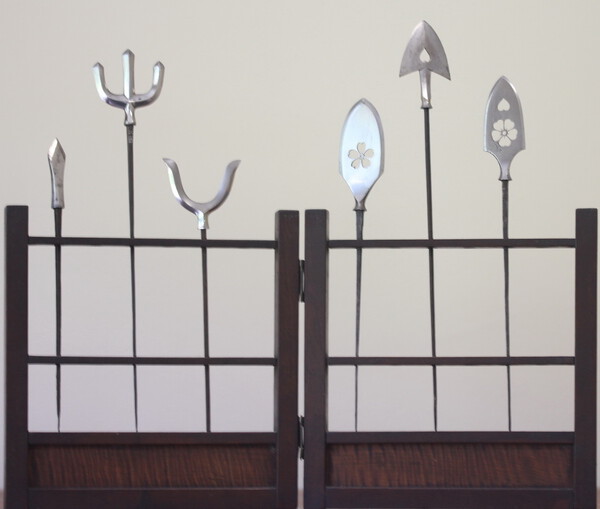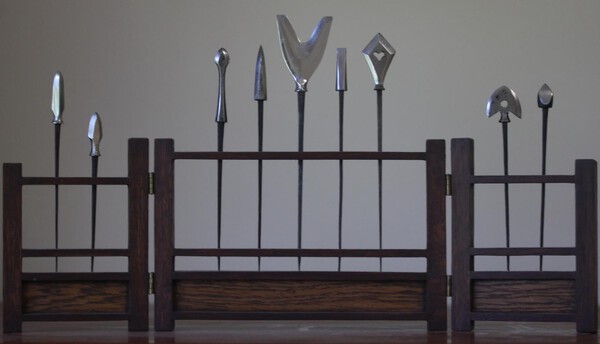 He also had the retired cabinet maker turn out custom boxes in Japanese oak for his better arrowheads - there were a lot of boxes!!!
Laurie had other strings to his bow... He developed an interest in kabura-ya, Whistling Arrowheads. From research and drawings he made a few of these and fitted them to shafts. He also had a strong interest in Sôhei, the Warrior Monks of Old Japan, and undertook research into their history. His remaining passion that I can recall was the Mongol invasions of Japan. On one trip to Japan he made a point of visiting Hakata Bay just to behold the wall the Samurai built to forestall the Second Invasion of 1281. A favourite possession was a diptych of one of the invasions with Samurai fighting the Mongol warriors.
Our good mate Laurie is sadly missed by all. A bright note is that his entire collection was bought from his family by a good and worthy friend in collecting.
Barry Thomas
aka BaZZa.