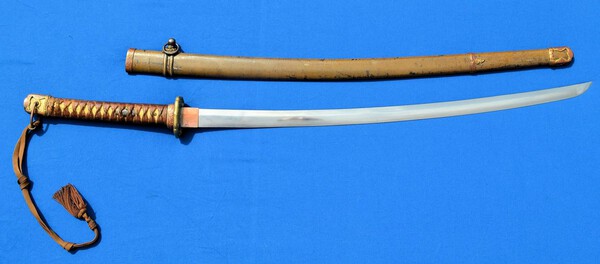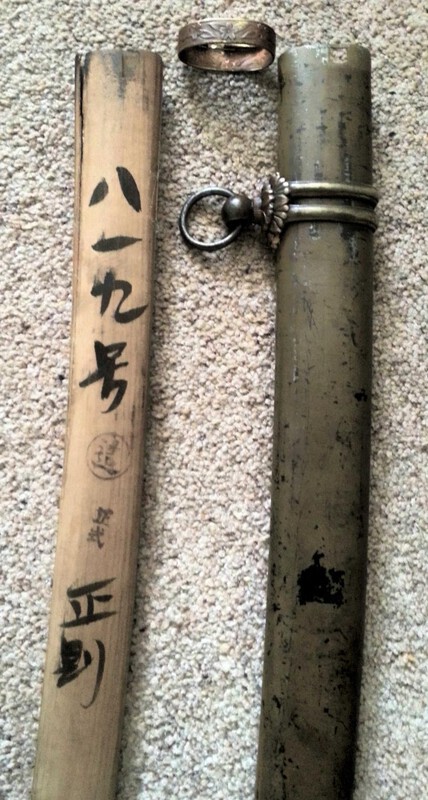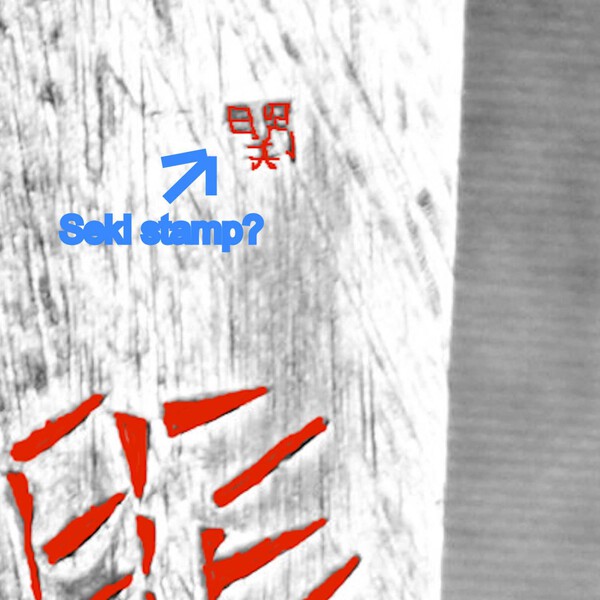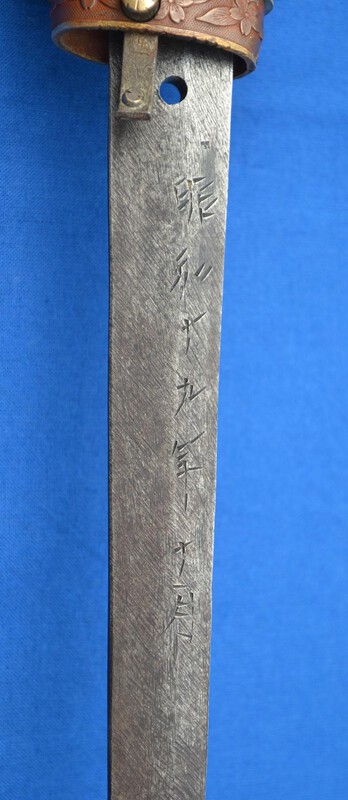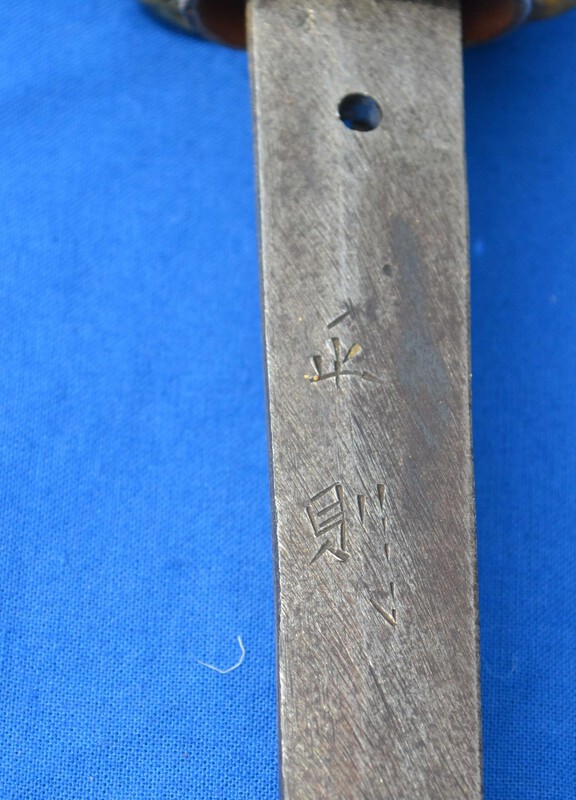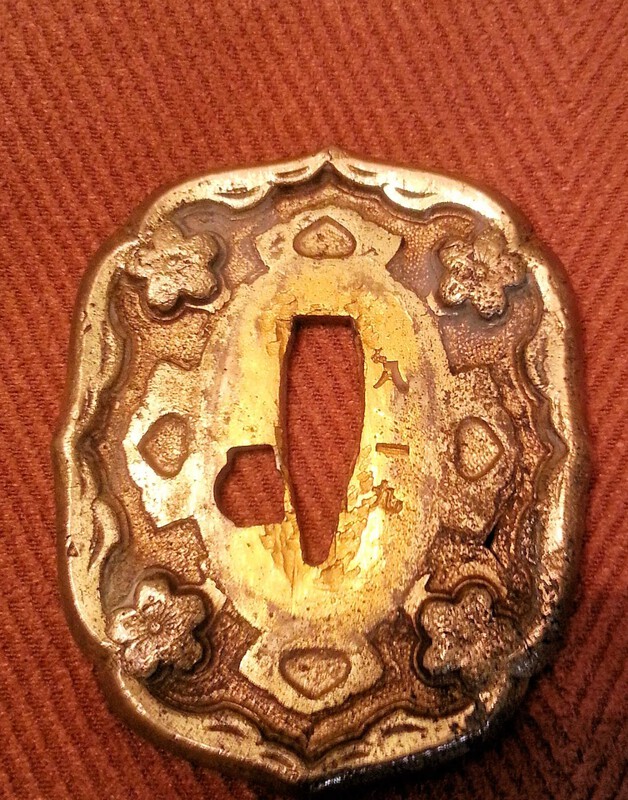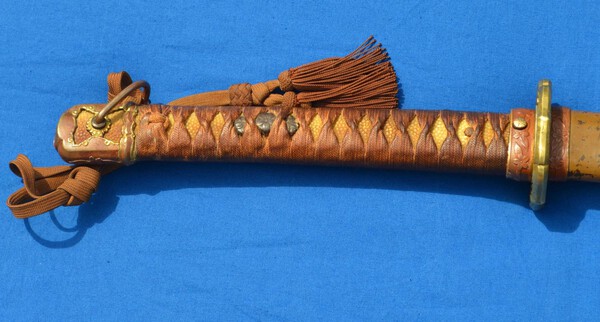 Hello, this is my first post here although I have been a long time sword collector and active on other forums. For my first post I thought I would like to put up a type 98 Shin Gunto from 1944. Some of the information was supplied by members on other forums and I would welcome comments and assessments from people here.
Catalogue description when purchased:
WW2 period Japanese Army Officer's Sword. A good Showa period example, the blade length of 27 inches. The tang with signatures to both sides. The hilt of military pattern with binding and retaining military mounts. Housed in its original pattern military metal scabbard, this retaining most of the original painted finish. Also complete with officer's sword knot.
My statistics:
Weight: 2lb 7oz (1.12kg), with saya: 3lb 10ozoz (1.64kg)
Length overall: 37'' (94cm) Blade: 27'' (69cm) Sori about 1'' (2.5cm)
POB: 6'' (15cm) from tsuba.
Profile taper 1.23'' (31.3mm) in front of habaki, 1.06'' (27mm)at mid blade, 0.88'' (22.5mm) 2 inches from tip.
Distal taper 0.28'' (7.1mm) in front of habaki, 0.26'' (6.6mm)at mid blade, 0.21'' (5.4mm) 2 inches from tip.
Comments and information gleaned elsewhere:
White frosted suguha hamon on blade which is more cosmetic than anything as these blades were not traditionally made. No other activity in blade. Nakago is signed/marked on both sides. Also what looks like a small Seki arsenal stamp. Seppa are also marked as is the poor quality tsuba. These are assembly number makings - 819. There is a retaining latch which engages with the saya. Tight brown ito over discoloured same. Single mekugi. Army cherry blossom menuki with gilt worn off. Smith's name Masanori signed on nakago, might be the Masanori listed in Hawley, Mas 753 as a Seki smith in Mino in 1950, although this sword is of course earlier.
The other side of nakago translates as 'Showa ju ku nen ju gatsu', - 'Showa 19th year 10th month', - 'October 1944'.
The wooden scabbard linings are also marked. These have the same assembly numbers as on the tsuba and seppa '819' and beneath them 'Masanori', so all perfectly matching. The samegawa seems to be celluloid plastic which was used on some wartime swords.The menuki are placed as for a tachi and the mei (signature is correctly placed on the tachi omote side. (outward facing side when worn edge down as a tachi)
The sword knot is plain brown which would properly be for a Naval Officer but apparently the Army replaced their blue and brown ones for these as part of late war economy measures.
I have a specific question about the same. As stated it appears to be (feels like) cellulose or some other sort of plastic. How common was this ?