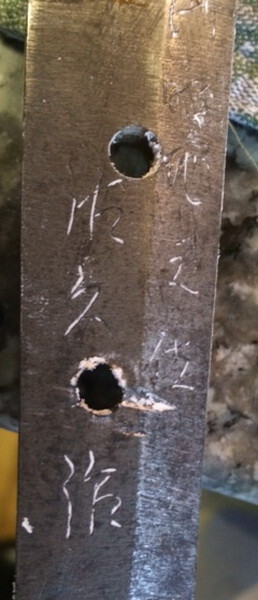 Hello All, I am in need of assistance with translating the kanji on this Katana. The photo was taken with a smart phone and sent to me. I had advised the young man who owns this sword to highlight the kanji with Talcum powder but he did not do a great job. I do not have this sword to make a better photo. I belive this form of Kanji is called Go Sho(?) and I do not have the books necessary to translate. But then I am not very well versed in this style anyways.
The fellow lives in Maryland and has agreed to bring it to me around Christmas holidays.
Any assistance this forum could provide would be greatly appreciated. The young man recieved the sword from a family member and was taken during WWII by his great uncle. He does intend to have it restored at sometime in the future.
Thank you all for your efforts, Charlie