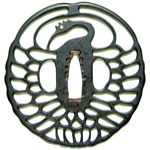 My Wakizashi
Started by
The Tower
,
Apr 01 2019 05:05 AM
wakizashi
Posted 01 April 2019 - 05:05 AM
---
Posted 01 April 2019 - 09:55 AM
Dear Martin.
Welcome, please add your name to all your posts as we all do here. I am not sure what you want to hear about your sword. It is a perfectly genuine antique sword, an unsigned wakizashi in older polish with low end but genuine mounts which is papered to a Takada school smith. I think Teruyuki of which there were four generations between 1650 and 1800.
The Takada school is not generally highly regarded, it is suggested that they are not art swords. I have always found that a rather strange statement and individual swords are often very good.
Hope this helps.
All the best.
Geraint
---
---
Also tagged with one or more of these keywords: wakizashi
NMB General Japanese Discussion

→

Translation Assistance

→


Started by UnattractiveDog ,

03 Apr 2020

wakizashi

,

translation

Nihonto Discussion

→

Nihonto

→


Started by Backbadge ,

16 Mar 2020

wakizashi

Commercial Listings

→

Wanted to Buy

→


Started by Oshy ,

05 Mar 2020

wanted

,

wakizashi

,

katana

Commercial Listings

→

For Sale or Trade

→


Started by matthewbrice ,

15 Feb 2020

wakizashi

,

katana

,

koshirae

and 2 more...

Related Subjects

→

Military Swords of Japan

→


Started by Dr Fox ,

09 Feb 2020

wakizashi
0 user(s) are reading this topic
0 members, 0 guests, 0 anonymous users