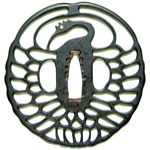 Can Anyone Help To Translate The Writing On This Sword
Started by
propmaster
,
Oct 11 2018 05:53 PM
translation
Posted 11 October 2018 - 05:53 PM
[attachment=151233:IMG_4731.JPG[attachment=151236:IMG_4730.JPG]
Any help would be greatly appreciated for the meaning and possibly the time period.
Mike C.
---
Posted 11 October 2018 - 06:08 PM
Dear Mike.
Welcome. Please add your name to your posts as we all do. I can't open the attachments so please do try again. If you go to Reply, and then to More Reply Options you should be able to attach some images for us.
All the best.
Geraint
---
---
Also tagged with one or more of these keywords: translation
NMB General Japanese Discussion

→

Translation Assistance

→


Started by Shamsy ,

28 Jan 2020

wakizashi

,

translation

Nihonto Discussion

→

Nihonto

→


Started by ichiku ,

10 Jan 2020

translation

NMB General Japanese Discussion

→

Translation Assistance

→


Started by Shamsy ,

28 Dec 2019

wakizashi

,

translation

NMB General Japanese Discussion

→

Translation Assistance

→


Started by ChrisW ,

25 Dec 2019

tachi

,

translation

,

koto

,

shinto

Related Subjects

→

Military Swords of Japan

→


Started by Runt ,

29 Nov 2019

gunto

,

katana

,

translation
0 user(s) are reading this topic
0 members, 0 guests, 0 anonymous users