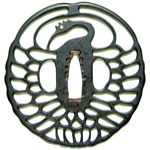 Den Dewa Ko-Gassan Gold inlay Nihonto Katana, Muromachi Era: 600 yrs (NTHK paper)
Started by
octaviano
,
Feb 01 2020 11:41 PM
for sale
katana
tachi
Posted 04 February 2020 - 09:57 AM
Brian regardless off the hada name its nice and its great you feel a conection, congratulations.

Greg

---
Posted 05 February 2020 - 01:05 PM
This presents a good educational opportunity for all, two things of note:
1. The hada seen on this sword is NOT Ayasugi. It is Itame with Mokume as stated on the papers.
2. Jussi pointed this out, but I would reiterate this sword is papered to "Den" Gassan Chikanori, not directly to him.
Stephen and Greg F like this
http://yakiba.com/ *For questions or purchase inquiries: Please contact me @ Yakiba.com@gmail.com
Thank you.
---
Posted 05 February 2020 - 09:27 PM
Gassan Chikanori is not supposed to be pure ayasugi, but rather ayasugi that appears in small parts of the blade, like one sees in Houju. In NTHK definition Gassan Chikanori especially is basically late Muromachi blades which exhibit high contrast hada, weak hamon and some evidence of something that looks ayasugi.
NBTHK papers would typically yield a different name, though equally vague; Fuyuhiro is a common NBTHK counterpart attribution.
Both are not particularly supported by signed blades.

Kirill R.
---
---
Also tagged with one or more of these keywords: for sale, katana, tachi
NMB General Japanese Discussion

→

Auctions and Online Sales or Sellers

→


Started by matthewbrice ,

29 Mar 2020

tanto

,

katana

,

horimono

,

gunto

and 1 more...

Commercial Listings

→

For Sale or Trade

→


Started by matthewbrice ,

28 Mar 2020

katana

,

horimono

,

for sale

Commercial Listings

→

For Sale or Trade

→


Started by Nikanoru ,

27 Mar 2020

kozuka

,

for sale

Commercial Listings

→

For Sale or Trade

→


Started by Nikanoru ,

27 Mar 2020

fuchi

,

kashira

,

for sale

Commercial Listings

→

For Sale or Trade

→


Started by Nikanoru ,

27 Mar 2020

menuki

,

for sale
0 user(s) are reading this topic
0 members, 0 guests, 0 anonymous users