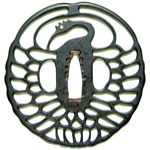 Translation Requested
Started by
Stouthart21
,
Feb 11 2019 08:12 PM
Posted 11 February 2019 - 08:12 PM
Would appreciate a translation or what this means on these two late war swords.
Thanks
---
Posted 12 February 2019 - 01:08 AM
The wooden tag has the name and address, presumably of the owner, written on it. The paper labels are too far gone for me to read, but it might just be a further refinement of the address (it looks like a street address).
The wooden tag says
講武村大字商囗囗
Kōbumura Ōaza Shō...(illegible after that)
Kōbumura was a city in Shimane Prefecture, now absorbed into Matsue city.
宮廻蔵次郎
Miyazako Kurajirō - name of the owner.
Steve M
---
---
0 user(s) are reading this topic
0 members, 0 guests, 0 anonymous users