Hello everyone,
Over the past couple of weeks I've been striving to research the history of a small 3-1/2 inch bronze "hand-cannon" found illustrated at the upper left-hand corner on page 61 of Francis Bannerman 1907 Military Goods catalog, but to no avail. Below is the illustration: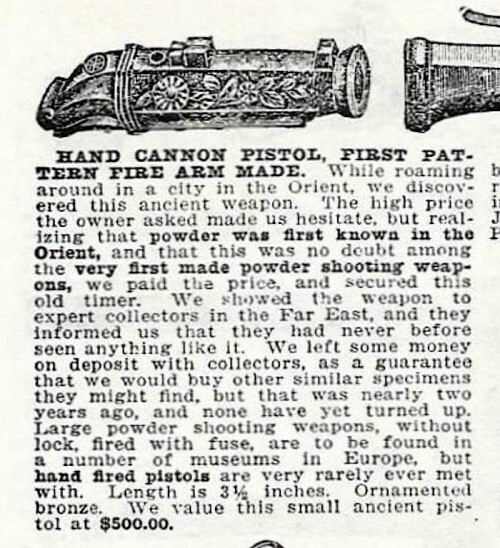 In my research, all I've been able to find on the above are 20th century reproductions made in brass stating that it's a Chinese hand-cannon. Sadly, some auction houses and internet auctions are offering/selling these crude 20th century reproductions as "original period" hand-cannon. Below are a couple of images of the reproduction and a 1981 Dixie Gun Works catalog entry showing they are reproducing these "Chinese hand-cannon" and selling them at $5 USD each: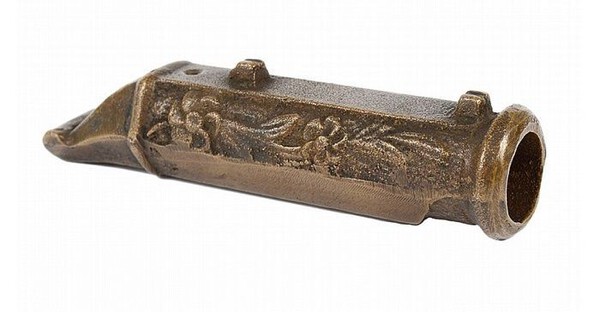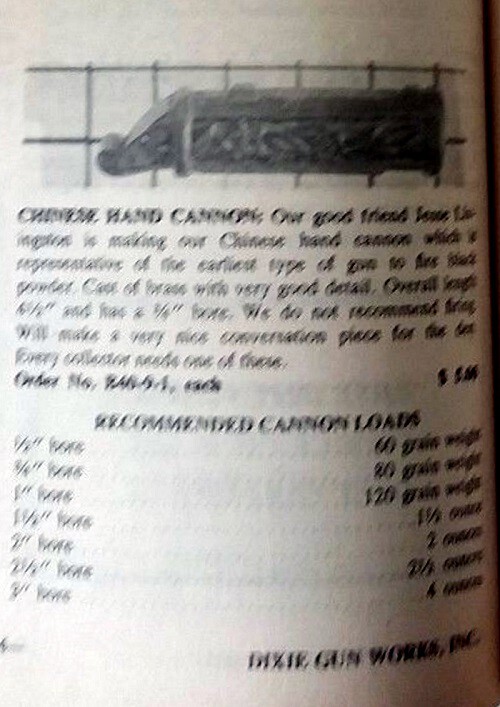 My question(s) on another thread (http://www.militaria...w-york-in-1907/) was/is.... can someone here please shed some light on this weapon? and member Piers D wrote:
"Jo, it is a Japanese Kayaku-dameshi powder tester. 火薬試し Ignore the original description. Most of it is wrong.
They are rare but not über rare. I have owned three of them. When a new batch of black powder was made up the gunsmith could test fire in the hand or nailed or strapped to a bench, judging the flash, the smoke and the report whether it looked good.
By the same token as you say there are crude modern castings going around of inferior quality, so be aware! I have taken two or three of them in hand. A good one today should not cost more than $500 US in modern dollars unless it is of particularly fine or unusual workmanship. (No idea what a modern brass copy would make, but I would not want to pay even $50 for one.)"
My question(s) should have been.... can someone here please help shed some light on the actual weapon illustrated in the 1907 Bannerman's catalog?
Is it Chinese or Japanese in origin?
Why can't I locate other examples of this exact "hand-cannon" anywhere other than 20th century reproductions?
Why are all of these internet auction and even some reputable auction houses such as Bonhams offering/selling these repros as originals: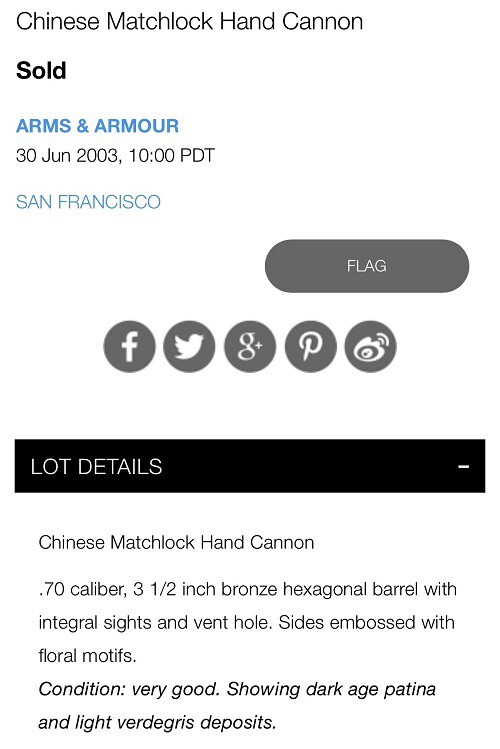 Can someone please help?
Thanks in advance for your time and replies.