PRECINCT OF THE JIGENDO TEMPLE (Tokyo, Japan)
Oil on canvas by
ARRAH
LEE GAUL (American) 1889-1981
Canvas 25x30inches (= 63x76cm) +frame.
This lovely painting used to hang in our sword room to great effect.
A gorgeous Japanese summer temple scene painted in the period 1950-57. The frame appears to be the original. (see images)
Our broadband is too slow to communicate through NMB so please contact Christopher Shewen by email chrisshewen@gmail.com
Click images to see larger.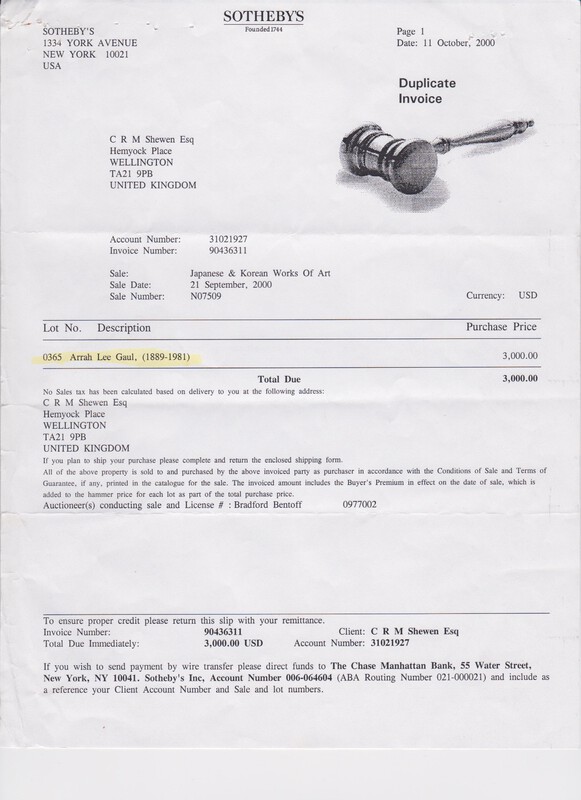 Arrah
Lee Gaul is well regarded and according to her obituary her work has been shown in museums in New York, Washington DC, Chicago, Paris & London, She lectured at the Philadelphia College of Design and was a member of the famous group of artists "The Philadelphia Ten"
The joy of the painting is in the brilliant multi-layered and vibrant shades of summer green with the red architectural details of the temple in brilliant "popping" contrast. It works better
among
swords and armour than woodblock prints, I think this may be a matter of texture and colour.
The condition of picture and frame are good and it is ready to hang now. But I am advised that different computer screens may show the paint colours in slightly different ways.
I paid US$3,000 (£1,800) for it in Sothebys New York in 2000.
PRICE £650+ shipping at cost. Priced for a quick sale.
Shipping (Post&Packing) costs are quoted by Mailboxes-Etc Company:
UK £75, Europe £150, USA £230.
Plus extra £20 for insurance cover.
Mailboxes-Etc
are
extremely good packers. I have used them several times and cannot fault them.
Or: You can collect from us, near Taunton in Somerset
Prospective buyers may want to see the buyers feedback from the sale of our library of sword books earlier this year. The feedback was 100% positive.