I've asked Brian to delete my older post about this tsuba book as I now have a copy and can make a couple of accurate comments.
The book has exceeded my expectations. The colours and text are great on quite heavy paper.
The only comment is that the text on the title page has a grey tinge on a white background.
The cover has some very common character, the first being in a computer script followed by the written version and finally the sosho version
The book has 221 A4 pages in full colour
There are 581 tsuba with many mei that to my knowledge have never been published
​There is a cross reference to the tsuba with a mei and vice versa
These tsuba come under the general term of the 'Good, the bad and the Ugly'. So many books are high end tsuba that most can not afford but most of these can be seen a general sales and fairs
This publication is available on LuLu publishers
https://www.lulu.com...ille cooke=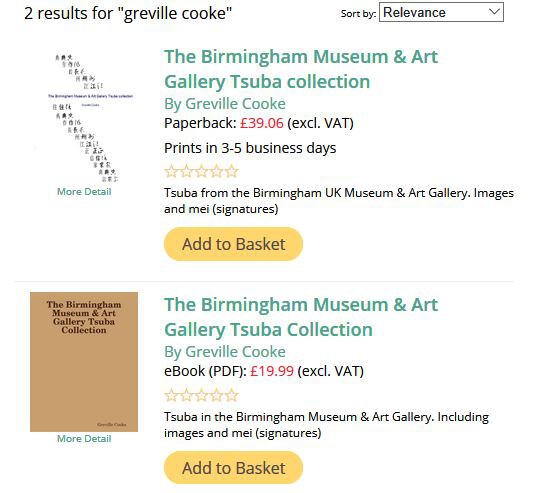 Rather than post tsuba images I feel it is better to click on the LuLu 'review' tab to see the first few pages
Paperback = £39.06 ($49.99)
eBook = £19.99 ($25.59)
The major aim for publishing this tsuba book was to persuade the Museum to get the tsuba out of storage for an exhibition
To help this I'd like as many NMB members to promote this book through their web sites, Facebook, Nihonto clubs etc
The more books sold gives me a decent lever to ask the Museum to display these tsuba
This has taken me around four years to get to this stage with the help of many NMB members but I would like to mention Markus Sesko for his invaluable help with the actual publication.
I would appreciate members to add to this post any reviews or corrections