View Other Content
Search Articles

0
A Very Rare Teppo Pill Lock
Jan 04 2015 04:15 AM | watsonmil in
Articles
I would like to describe a very rare and interesting Japanese Teppo of the late Edo Period. But first a little background information should be disseminated. Gun makers the world over had been interested in developing an ignition system to replace the Flint Lock mechanism. Napoleon had ordered French scientists, engineers, inventors to devise a more reliable ignition system than the Flint Lock. By 1800 several compounds had been discovered that were capable of detonation when struck by a sharp blow. A French scientist Claude-Louis Berthollet had been experimenting with such compounds with the intent of not ignition but of replacing black powder as a gunpowder. He abandoned his research when he found that the compounds were too explosive and forceful to act as a propellant.
A Scottish Clergyman and amateur chemist by the name of Alexander John Forsyth was also experimenting with these compounds as early as 1793.
His idea was not to find a substitute for black powder but rather a better ignition system to detonate the black powder charge contained in the barrel of his gun. You see he was an avid waterfowl hunter and often found on rainy days his flintlock shotgun was prone to misfires. It was to him that credit is given for the use of a compound and the development of his scent bottle dispersal of the percussion sensitive compound ( Fulminate of Mercury ) is to be credited. His system although effective was so delicate that few firearms were built on his invention. He patented his invention in 1807.
It probably falls to a British Gun Maker by the name Joseph Manton ... who actually formed the explosive compound into a tiny pill. Thus with a single pill sitting in a tiny recess in the pan ... finally an easily workable SIMPLE system of ignition was developed to replace the flintlock. Far from being perfect this pill was so tiny as to be easily dropped and again the system was only in favour a very short time before the invention ( supposedly by several inventors ) was developed but credit is generally ( although erroneously ) given to an American Joshua Shaw who patented it in 1822, ... that being the percussion cap. Although of little significance to this article it has pretty much now been proven to be the invention of a French gentleman Monsieur Prelat in his patent of 1818. A small cup shaped piece of copper closed at one end that not only contained the ignition compound but could be fitted over a nipple with a vent leading to the main barrel charge. It was not until the 1850's that the percussion cap was integrated into a metallic cartridge containing all in one unit, .... the ignition, the powder charge and bullet. By the late 1860's the metallic cartridge had made the percussion system obsolete and for the most part the metallic cartridge is to this day the most common form of ammunition.
Now on to the specimen pictured. Although very little is known of the development of percussion detonating compounds in Japan. It is known that one Sakuma Shozan a chemist and physician in Matsushiro Fief in Nagano Prefecture was experimenting with detonating compounds in the early 19th century. It is almost certain that he would have learned of the experiments being carried out in Europe via " Learned Books " being imported into Japan. It seems to follow that a certain gunsmith by the name of Katai Kyosuke Naotetsu from Shinshu may have been converting a few existing matchlocks to the PILL system of ignition by inserting a solid striking pin into the mouth of the matchlock serpentine. This being around Bunsei 10 ( 1827 ). This may be true as he is credited with upgrading the pill lock by the addition of a sliding pill box In Tempo era ( 1830 - 1844 ) as seen on the gun presented here as well as those found on page 171 of Tairwa Sawata's book on early Japanese Firearms.
I do not know if Katai Kyosuke Naotetsu was the builder of this firearm pictured or if he is solely responsible for ALL of those pictured in Taira Sawata's book, ... but I believe ALL were created in the same workshop. I base this conclusion on the unique similarities. Note the style of sliding pill dispenser ( little or no variation ). The stock shape of each, ... the assisted lever for cocking the serpentine, ... the serpentine shape, ... the iron ramrod of peculiar style ( fitted with a hinge arrangement for withdrawing and inserting in the barrel and then fitting the handle into the muzzle when not in use ), ... the exiting of the ramrod from the stock part way down the stock. Trigger's and trigger guards pretty much identical. With the exception of the hinged ramrod ( a rarity on any matchlock but are found ) and of course trigger and trigger guard, ... I know of no other similar examples in Japanese firearms.
This particular example weighs in at 3.5 kg. It is 95 cm in length. The caliber is 1.55 cm therefore 6 monme. The only missing piece that I have noticed is a small round iron cover for the firing pin arm spring. This could easily be made up and replaced with a little caution as to the thread size of the screw which would have held it secure.
... Ron Watson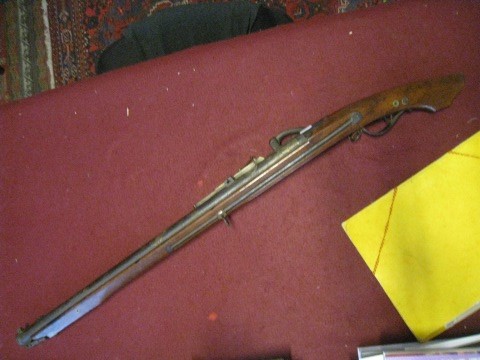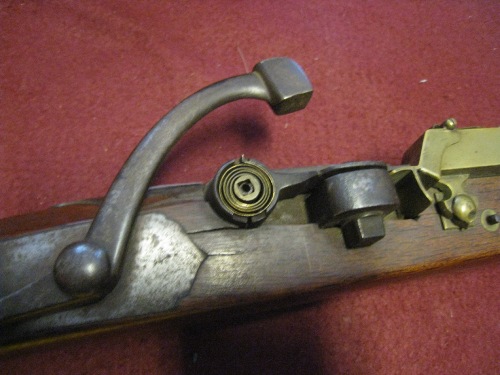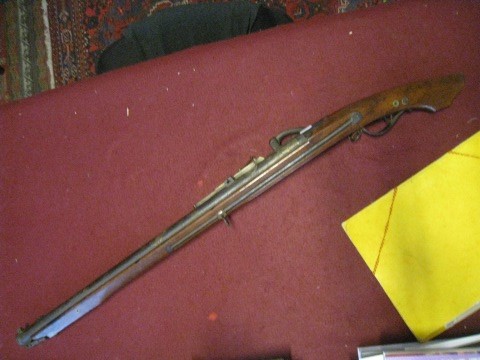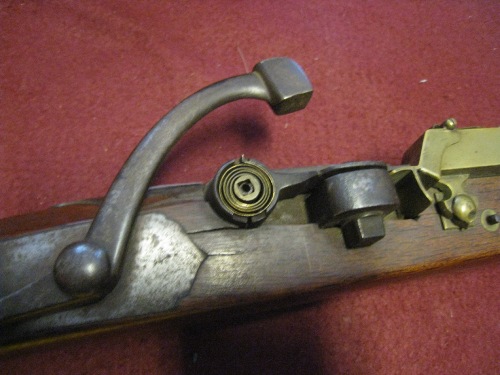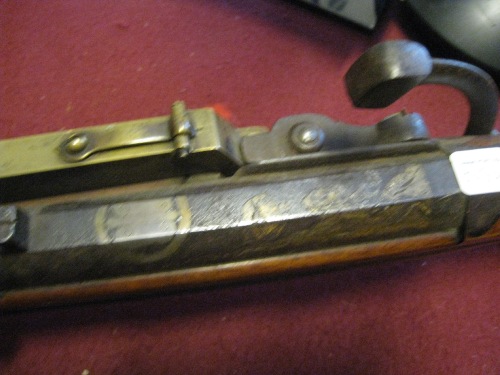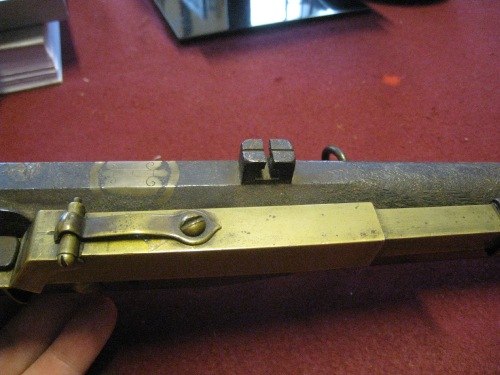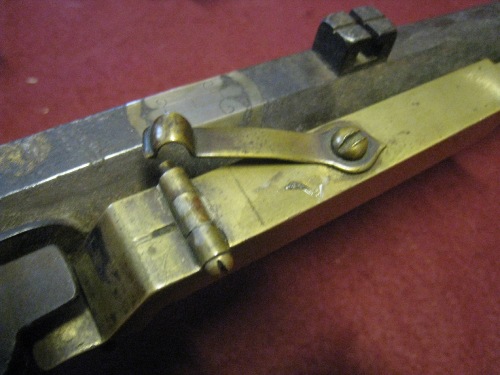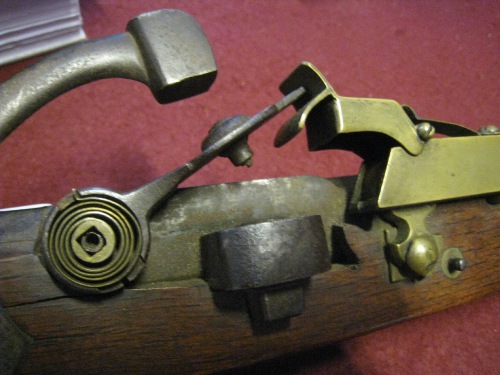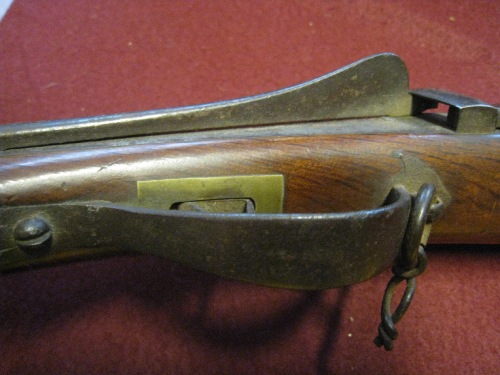 http://www.militaria...-1420337890.jpg
http://www.militaria...-1420337913.jpg
http://www.militaria...-1420337943.jpg
http://www.militaria...-1420337968.jpg
http://www.militaria...-1420337989.jpg
http://www.militaria...-1420338019.jpg
Article: A Very Rare Teppo Pill Lock